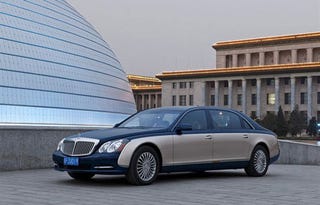 The industry term for an upgraded vehicular design is a "facelift." But the exceptionally minor enhancement to the Maybach 62 is barely a Botox treatment.
The big Benz debuts today at the Beijing Motor Show, showing off a bigger grille, headlights that look even more like they came off a previous generation E-Class and LED lights under the crisper bumper. It's not a luxury car without LED lights. Relatively impoverished rich people have no fear, the visual cues will also carry over to the Maybach 57.
Even with these minor aesthetic touches, the car is almost exactly the same, sporting the old 6.0-liter V12 super/turbocharged engine putting out 542 HP. The difference is they've dropped emissions and upped fuel economy to 17.77 MPG on the Euro scale, a change no one will care about when they're playing with the wireless Internet and crystal accents in the backseat.