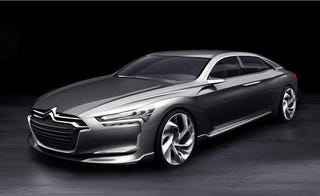 Longer than an S-Class and wider than a Maybach, the Citroen Metropolis is the French company's idea of the ultimate luxury car for China. Don't worry cute Pandas, the Metro is an environmentally friendly 460 HP luxobarge.
At low speeds, power comes from a 55 HP (continuous)/95 HP (peak) electric motor, delivering zero emissions at Shanghai city speeds with a 2.0-liter V6 making a very impressive 272 HP on the highway. The two powerplants somehow can also combine to the tune of 460 HP.
This being a Citroen, suspension is Hydraactive, which compensates for load and lowers at high speeds to increase aerodynamic efficiency, decreasing fuel economy and saving even more Pandas.