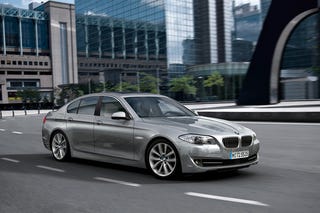 Thieves recently stole six BMWs destined for the New York Auto Show, including a rare 5-series worth $90,000, from a processing center at the New Jersey port.
According to the New York Post, the six cars were stolen over three separate heists. (Anyone else feel like they should be holding a Tommy Gun when they say the word "heist"?*) One of the vehicles was what the Post calls a "550i Sophisto;" this term likely refers to the new BMW paint shade of Sophisto Gray, seen above. The car, claimed to be worth $90,000, was taken on March 13, when thieves also stole a 535i xDrive and a 650i. A 750Li xDrive was taken on Monday night. BMW representatives told the Post that they had "provided all the information to the authorities."


*"Yeah, coppers! You'll never catch me, see? I got Bavarian Benny and the Sophisto Slicer with me, we pulled off this heist, and we're gonna make for the hills!"
(Hat tip to Chris!)
[NY Post]