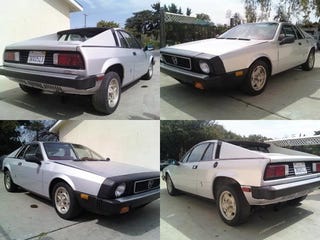 While finding a Lancia that's unable to move under its own power may seem more the rule than the exception, Nice Price or Crack Pipe thinks that this Scorpion with your choice of engines could prove very motivational.
Yesterday's Bronco didn't buck the trend of overwrought restos not bringing anywhere near the cost of rejuvenation. Horse sense proved to rule the day as a robust 79% of you showed the Bronco, and its busty partner, the door to cracktown. While that Ford failed to find favor for foisting an inflated fare, it's likely that we haven't seen the last of the Chesty Le Rue and Her Magic Ass of Hypnotism show.
Something that we may be seeing the last of are cheap-ass Italian cars. Fiat stopped sending over their wares, disguised as Bertones (X1/9s) and Pininfarinas (Spider 2000s) in the mid-eighties. Alfa graduated to not selling cars here in '93, and while they're sort of back, the limited production 8C Competizione isn't what you'd call cheap.
But long before Alfa's retreat, another of the Fiat army fled these shores, leaving only but a few dead and wounded strewn across the land. Lancia, once a proud independent maker of cars that were some of the most carefully constructed and technologically advanced, faltered financially and was absorbed by Fiat in 1968. The Beta line was being engineered when Tony attempted to fix it again, fating the resultant cars to reach the market underdeveloped. And worse, they were Fiat powered when they arrived.
But that doesn't mean that they weren't beautiful and interesting, as exemplified by today's 1976 Lancia Scorpion, which is offered for a quick sale, but not quick getaway, as the engine bay is as empty as a politician's promise. But fear not o' lovers of Lancia, for the seller has not one, not two, but three motors from which you may choose to make this Scorpion scalding. You can start with the bunny slope-worthy 80-horse 1.8, or, if you're feeling a little more confident, the intermediate 2.0 with 120 ponies. But if you're only interested in the black diamonds, then the 185-bhp Alfa 3.0 from a 164 front-driver might just be the ticket. Either way you go, you better be handy with a wrench, because you're going to need to wedge something back there to make this beautiful Pininfarina design something more than just a still life. Aside from the empty engine bay, the rest of the Scorpion looks pretty complete and there doesn't appear to be any obvious rust or missing trim. That's good as body parts, and, more importantly the unique plastic bits, are becoming harder and harder to find as these cars rarely show up even in the junk yards any more. Inside there's new seat upholstery, done up in a bordello's curtains, and the cat house's rug is being used as a dash cover. Overall a very warm and inviting environment.
The seller is looking to move the metal and has priced his three motors plus the stingless Scorpion at an engine-fire sale price of $2,800. What could you do with it? Well, for starters you could drop in one of the mills and make this a runner. Then you could build yourself a Abarth 030 repli-racer, or use it as a base for (here's where we all bow our heads) a Rally 037 homage.
What ever you do, you'd have to buy the mass of Scorpion and motors first, and hence there's the matter of that price. Would you pull $2,800 out of your pocket to play musical motors with this Scorpion? Or for that price do you require your Lancias to be completo?
You decide!
Think Blue Craigslist or go here if the ad disappears. DamnThanks to DamnElantra for the tip!
Help me out with NPOCP. Click here to send a me a tip, and remember to include your commenter handle.