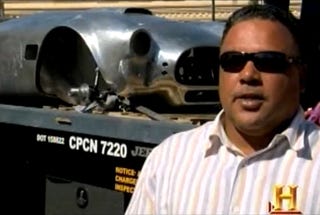 If you've got a legitimate Shelby Cobra chassis and body, pay your storage unit bills or at least claim it before it becomes the property of the towing company paid to remove it. A free, original Cobra? Nice price.
Actual Shelby Cobras are rare birds and command a serious price premium when they come on the market. Of course they're also the most replicated cars in history so anything claiming to be an actual car is highly suspect. This particular example came riding a rollback to the Gold & Silver Pawn Shop in Las Vegas, the shop featured on the lately dubiously-named "History Channel."


The tow company owner, Shawn, came into owning the car after he was paid to remove it from a storage facility when the owner failed to pay the rent and thus forfeited the contents of his unit. As per Nevada law Shawn attempted to contact the registered owners of the car and following no response after 90 days, took legal ownership of the abandoned car.
Shawn took the car (consisting of basic frame, suspension and body components) to the "Pawn Stars" to see what kind of money he could get for his windfall and predictably the pawn brokers were skeptical. They requested the advice of the president of Shelby Cars Northwest who confirmed the veracity of the car's authenticity after a quick once-over and noting the correct construction techniques, materials and production markings. He valued the car at approximately $60,000 but Shawn apparently didn't want to deal with the trouble of putting it on the open market and accepted a purchase offer of a measly $30,000 from the store's founder Richard Harrison. Richard then paid another $80,000 to have the car completed and plans to keep it for himself, at least for a little while. $110,000 might seem like a hefty sum for a car, but in the world of authentic Shelbys that's a bargain.