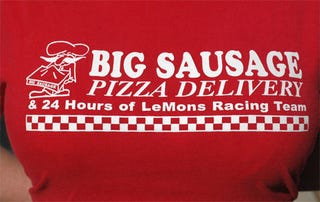 A week after the Buttonwillow rollover veteran Krider Racing/Big Sausage Pizza Delivery Acura Integra won the "Good" class at the 24 Hours of LeMons Sears Pointless, their team T-shirt made an appearance on The Smoking Tire.
Matt Farah rocks a genuine Big Sausage Pizza Delivery t-shirt in his newest episode of The Smoking Tire. Matt test drives a Hyundai Genesis Coupe through Santa Barbara with a peculiar navigator named Andre riding shotgun.
The team has a few shirts left which can be ordered through Ebay.