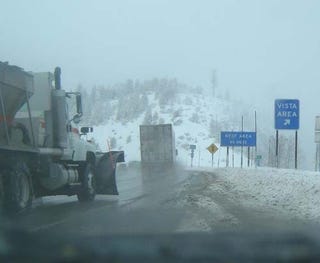 Since the first BumperCam, last summer, I've been experimenting with timelapse cameras. We've seen timelapses of LeMons BS Inspections at Nelson Ledges, MSR Houston, and Thunderhill, not to mention the Alameda to Los Angeles In 90 Seconds video.
Tuesday morning, my brother-in-law decided we ought to drive the 200 miles east to Reno and play some blackjack. Ten years ago we were semi-serious about card counting and made many such expeditions, but then the casinos started suck-ifying the rules (e.g., 6-to-5 blackjack payouts, doubling only on 10 or 11), going with multi-deck shoes and automatic card shufflers, and otherwise making life difficult for the honest counter. We had a lot of fun making the trip a couple times each month, usually in his bulletproof Toyota truck, so what the hell- let's go now! As you can see in the photo above, the rise of Indian casinos in California has not been kind to Reno's economy; plenty of once-prosperous downtown casinos are now boarded up.


Because rain and snow were called for, we decided to take my equally bulletproof Civic, so that we wouldn't have to rainproof our suitcases via the trash-bag-and-ziptie method and haul them in the open bed. Either way, we'd be dealing with tire chains (more on that later).


So what you get in this video is a 9:30 AM departure from the Biggest Little City, with a stop for chain-up near Truckee and another for chain-off near Baxter. A stop in Berkeley to drop off the bro-in-law at his house (you can see the legendary '88 Toyota truck's tailgate for a moment), then back to Alameda (I would have done the eastbound leg as well, only I spaced on camera batteries). Music courtesy of my old band, Murilee Arraiac.