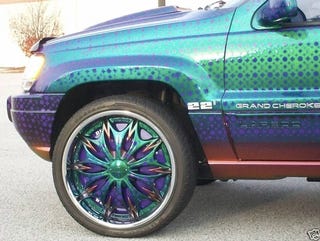 Further evidence trashy fashion and cars don't mix: an eBay auction for a V6 Jeep Grand Cherokee tastelessly customized with a Louis Vuitton pattern paint job and matching interior. Unsurprisingly it failed to meet its reserve.
Here's what the seller has to say for himself:
I am looking to sell a custom Louis Vuitton Jeep. Jeep has Dub Rims that matches the paint job, custom interior, Tvs in both sun visors, 4 Tvs in the headrests, talking alarm, flip-out Tvs, and much more. This truck is loaded with too many items to list them all. There is close to $100,000 worth of work put in the truck.
This vehicle has been kept in storage. There are no scratches in the paint. This truck is truly a work of art.
PLEASE ONLY RESPOND IF YOU ARE A SERIOUS BUYER!!!!
[eBay]