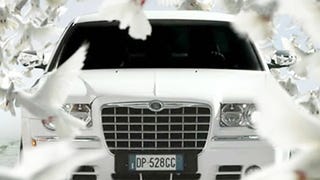 Chrysler's Italian masters at Fiat fired BBDO Detroit, bringing in an Italian agency to do one commercial for the 300C gansgter-mobile. The ad stars Mikhail Gorbachev and calls for Myanmar's Aung San Suu Kyi's release. My name is-what the fuck?

Since this is a new ad agency we're sort of surprised this follows essentially the same trite pattern they use in the My Name Is Ram commercial. You know, mixing images and video of the car with inspirational pictures and video. And the imagery they chose? Mikhail Gorbachev, Lech Walesa, a Trabant, a painting of Nelson Mandela and the Chrysler 300 mowing down a flock of doves. Seriously — talk about a mixed metaphor.
AdAge tells us Fiat Chrysler Group's Olivier Francois, the president-CEO of the Chrysler vehicle brand, tapped Armando Testa, his ad agency for Italian Lancia, to warm up a leftover Lancia commercial for the U.S. market.
Hmm, somehow we've got to believe hiring an Italian agency for the work may not sit well with American taxpayers, who bailed out Chrysler earlier this year with billions of dollars in loans. And this while several hundred staffers of Chrysler Group's longtime ad agency, BBDO Detroit, will be out of work at the end of January when the contract expires.
But back to the spot itself. It's a mish-mash of images that have nothing to do with the Chrylser 300C. All this does is continue to beg the question: Why the hell is Chrysler still alive and why did the American taxpayer help keep it alive?
Also, is that a European license plate? Make that a "what the fuck" times two.
[AdAge]