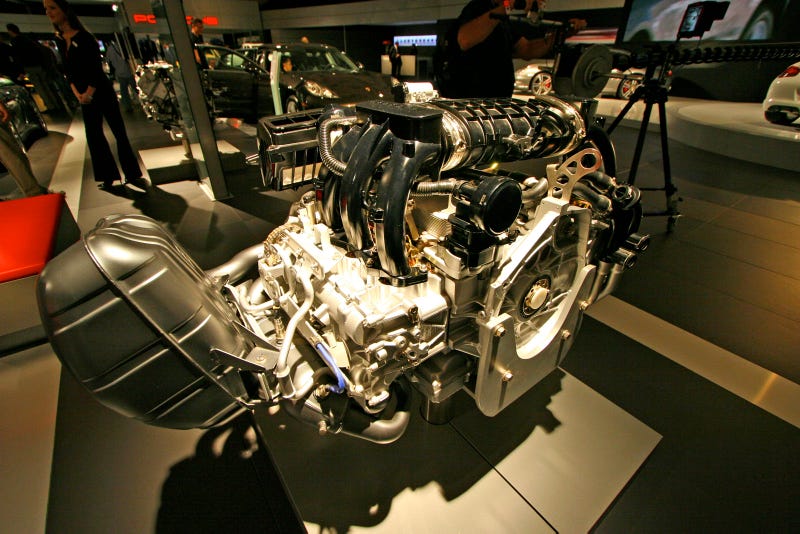 Come one, come all: It's time for a rousing edition of Guess That Engine. Know a piston skirt from a pressure sender, a con rod from a cap screw? Here's a slew of chances for you to prove it.
Auto shows usually have a healthy dose of engine porn, but the L.A. show had more than most. The eight powerplants in this gallery were found on the show floor, and each is available in a car sold (or about to be sold) to the American public. The only thing they have in common is that they looked cool on the stand.
Answers are on the right side of the page, along with a car that the engine is installed in. Be a sport and try not to peek, huh?
(The flat six seen here isn't part of the game because it's too easy — it lives in a Porsche 911. That said, if you can figure out which 911 it goes in, we might be impressed.)
Automaker: Lexus
Engine: 4.8-liter V-10
Output: 552 hp
Vehicle: Lexus LFA
Automaker: General Motors
Engine: 6.0-liter V-8
Output: 332 hp
Vehicle: Chevrolet Tahoe Hybrid
Automaker: Ford
Engine: 2.3-liter I-4
Output: 133 hp
Vehicle: Ford Escape Hybrid
Automaker: Porsche
Engine: 4.8-liter V-8
Output: 394 hp
Vehicle: Porsche Panamera 4S. (Check the driveshaft running through the sump.)
Automaker: Volkswagen
Engine: 3.6-liter V-6 (VR6)
Output: 280 hp
Vehicle: Volkswagen Touareg
Automaker: General Motors
Engine: 3.6-liter V-6
Output: 304 hp
Vehicle: Cadillac CTS
Automaker: Acura
Engine: 2.3-liter turbocharged I-4
Output: 240 hp
Vehicle: Acura RDX
Automaker: Volkswagen
Engine: 2.0-liter diesel I-4
Output: 140 hp
Vehicle: Volkswagen Golf