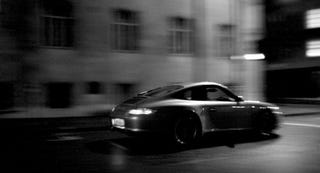 It will be very hard to top this. A black and white tracking photograph which focuses on the part of the Porsche 911 which really matters: its rear, with emphasis on its flared wheelarches. A dangerous car moving at speed.
Photo Credit: sjoerdtenkate/Flickr
Mark Nauta goes for a playful depiction: a lovely, subversive image of the Porsche 911 as a child's toy, with shipping containers standing in for Lego blocks. The car is a 1972 911 Targa.
Photo Credit: marknauta.nl/Flickr
How a simple, sloping rear end can become an alien's nest of whorls, slits and curves. This is a 997 GT2, the most powerful road 911 ever, facing off a more common German car.
Photo Credit: ThijsOverdeVest/Flickr
A rather pretty urban sunset composed around a 911. The low light helps to highlight the rear.
Photo Credit: mugley/Flickr
A very different way to show the 911's rear end. Rusty and rough surfaces eliminate distraction and show the bulges of the wheelarches and the engine cover. The car is a 1973 911 E 2.4 Targa.
Photo Credit: Ma-Eh/Flickr
An excellent focus on the car's treacherous rear end. Perhaps the way to do this is black and white.
Photo Credit: David Guimarães/Flickr
Yet another excellent photo of a Targa captures the essence of taking a corner.
Photo Credit: deanphoto.co.uk/Flickr
Maybe nothing more than a photograph of a rallying 911 at full throttle. Then again, is there anything wrong with that?
Photo Credit: photopalooza/Flickr
Mark Tomas has used flashlights and a long exposure to show the car's pleasing aerodynamics. He's got the technical details up on Flickr if you'd care to play similar tricks in the dark.
Photo Credit: Mark Tomas/Flickr
Maybe the essence of the 911 is the Targa? Another great photo of the headless 911, telling a story of summer days and cruising.
Photo Credit: sjoerdtenkate/Flickr
This is definitely not art: I took this myself from a balcony in Budapest. But there's something about the 997 Turbo from this angle, particularly about the relation of its rear wheelarches to the rest of its body, which demands further exploration.
Taken with a cell phone yet a great show of speed—and again, the focus is on the rear wheelarches. May was right: the essence of the 911 must be approached from the rear.
Photo Credit: falxone evans/Flickr
The beauty of this photo: how can you tell from a single glance at a partial headlight that this is a 911?
Photo Credit: .robbie/Flickr
Rear ends yet again. A doppelgänger-Porsche behind the gray one is an excellent compositional idea.
Photo Credit: Denniske/Flickr
Sports cars—and as an extension: speed—are about control. Control is manifested through contact with the road. Contact is supplied by fat tires. Fat tires need wide wheelarches. A great story in a beautifully executed photo.
Photo Credit: Alex //Berlin _ as+photography (busy)/Flickr
An attempt at art not through photography but through transforming its very object. This is a Rauh Welt 964, a Porsche turned in high JDM style into an Uzi submachine gun. To do something similar with a Ferrari, one would have to cram the dozens of musicians who make up a symphonic orchestra into a car.
Photo Credit: Nori Yaro
Fire never disappoints when art is to be created.
Photo Credit: lemmingstone/Flickr
Using a 911 to show the grit and toll of endurance racing. This battered 911 GT3 RSR came home third in its class at the 2007 24 Hours of Le Mans.
Photo Credit: Zsolt Csikós
Is there any better way to show immiment danger than with an orange GT3 RS with its left rear wheel not touching the ground on a very wet Nürburgring Nordschleife?
Photo Credit: Denniske/Flickr
How the 911 relates to the car which has, for the first time in four decades, managed to quake its throne: the Audi R8, a very different beast which is all about its middle.
Photo Credit: Andreas Reinhold/Flickr
As a parting shot, the Turbo's rear end yet again. A beautiful, industrial composition, highlighting the wheelarches with a play of light and shadows. Going, going, gone.
Photo Credit: j4nsen/Flickr