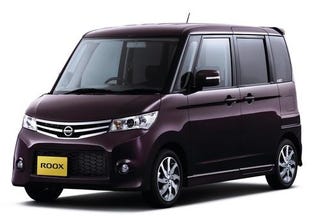 Japan's Kei cars are universally cool. So small they fit into a separate tax segment and require no proof of parking, they're a Tokyo urbanite's best friend. Now the new Nissan Roox looks like it's trying to fit in anywhere.
Not much more than a box on tiiiiiiny wheels, the two Roox models do what all kei cars do best, fly under the regulator's radar. There are two models, the Roox and Roox E. We find ourselves wading into dangerous cultural and comedic waters, but we have to mention the oddness of one version having narrow, angular headlights and the other have big round headlights. A cornucopia of tasteless jokes stand by at the ready, all of them horrible.
But in any case, the cars come with power sliding doors, abnormally large interiors and a turbocharged intercooled 660cc micromotor developing 63 HP. They're also cute as a button.

NISSAN RELEASES NEW MINICAR ROOX

YOKOHAMA (December 2, 2009) – Nissan Motor Co., Ltd announces the release of the Roox minicar, which goes on sale today at Nissan dealers nationwide.

The most distinctive features of the new Nissan Roox are its spacious interior, elegant design and convenient features, such as the double sliding rear doors that provide for convenient entry and exit and a large, low-floor height luggage space. The name Roox was coined from "room" and "max" to convey its exceptionally roomy interior.

While Roox's comfortable family car cabin is designed to change people's impression of minicar interiors in Japan, its exterior design also brings an eye-catching new face to the segment. Roox incorporates the design characteristics of Nissan's Highway Star Minivan series, including Serena and Elgrand, providing a striking and elegant appearance.

The new Roox is also designed to offer efficient operation and performance. The K6A engine-equipped models (except for turbo models) deliver both excellent environmental and driving performance, achieving top-in-class1 fuel efficiency of 21.5km/l2. With a 15% or 20% improvement in fuel economy over the 2010 standards, these models are certified SU-LEV3 (vehicles which emit 75% fewer emissions than the levels mandated by Japan's 2005 exhaust emission regulations). Roox non-turbo models qualify for Japan's preferential tax scheme for environment-friendly vehicles, with automobile acquisition tax and automobile weight tax reduced by 50%.

Nissan collectively refers to models that qualify for these preferential tax breaks as the Nissan ECO Series (NECO Series). Including Roox, 18 models4 have already qualified. Nissan hopes to stimulate consumer demand for eco-friendly vehicles by offering customers a broad selection of products to choose from.

An Imposing Appearance and a Comfortable, Practical Interior
The new Nissan Roox lineup includes two distinctive series designs. The Highway Star series features exterior cues shared with the popular Nissan Highway Star minivans. Utilising a chrome grille and a sharp headlight design, the exterior provides an imposing yet elegant appearance. The Roox Highway Star is available in a choice of six body colours – including two special colours, Mysterious Violet and Luna Gray.

The Roox E/G series presents a high-quality, spacious feeling expressed most prominently by its long, horizontal front grille. It is available in a choice of six exterior colours, including special colours Bloom Pink and Aqua Veil Blue.

As fitting for a vehicle designed to be enjoyed everyday by the whole family, the Roox combines comfort with practicality. Nissan Roox offers ample room and seating for four adults, and, with its cabin measuring 1365 mm wide and 2085 mm in length, the most spacious interior in its class.

All models feature Fine Vision meters and a well-coordinated use of chrome and piano-black interior finisher trim to produce a feeling of premium quality. The Roox Highway Star series features a sporty, elegant black interior treatment with special Fine Vision meters and chic fabric seat materials. The Roox E/G series utilises an elegant beige interior appearance with soft, glossy seat materials creating a bright, open atmosphere.

Remote-controlled double sliding rear doors are standard on all models. When open, rear access dimensions measure 580 mm wide and 1230 mm high. A low-mounted rear step, with a height of 340 mm (2WD models) aids effortless passenger entry and exit. Roox's low cargo floor, with a ground clearance of 535 mm on 2WD models,

combines with the large luggage space and wide opening to provide easy loading of oversized objects.

Power-sliding rear doors, which can be opened or closed automatically with a button located on the Intelligent Key, are standard on both sides of the "Highway Star Turbo" model, while the Highway Star and G series offer the power-sliding feature on the rear passenger side door only. A sliding door auto closer, which automatically shuts the door properly if the door is half-shut, is standard on all models, along with a slide door stopper that locks the door fully open for safe entry and exit when the car is parked on a hill.

Other standard convenience features include an Intelligent Key, which allows users to lock/unlock the doors simply by carrying the key fob, and a Push Engine Starter that can start or stop the engine with the touch of a button. A convenient drink cooler, fitted inside the upper glove box of the passenger seat, comes standard on all models and utilises cool air from air conditioner to keep beverages at a desired temperature.

Standard safety equipment includes SRS air bag systems for the driver and front passenger on all models, while SRS side air bag systems for the driver and front passenger are standard on all models except for E.

Driving Pleasure with an Eye Toward the Environment
Roox models equipped with the K6A engine models (except for turbo models) deliver both excellent environmental and driving performance, including the previously mentioned class-leading fuel efficiency and SU-LEV emission certification.

A CVT (Continuously Variable Transmission) with a sub-transmission that increases gear ratio and neutral idle control, helping reduce excessive fuel consumption while idling, is adopted to improve fuel efficiency. Also standard on all models is a vehicle operation information display, which shows real-time and average fuel consumption to help encourage eco-driving.

Roox models with the K6A intercooler turbo engine offer 47kW (64PS) of power, providing responsive driving performance.

Roox is supplied to Nissan by Suzuki Motor Corporation on an OEM basis.

Sales target: 3,500 units/month
Price range: 1,244,250 yen to 1,714,650 yen, including consumption tax
Sales launch events: December 5 (Sat.) - 6 (Sun.), 12 (Sat.) - 13 (Sun.), 2009