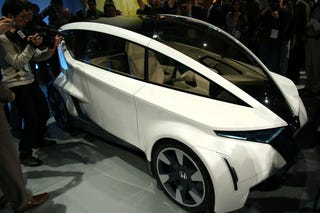 Honda's Personal-Neo Urban Transport Concept is confusingly called the P-NUT, even though its McLaren F1-like three-point seating and rear-mounted powertrain are designed to make passengers feel like they aren't packed in like actual peanuts. Also, it's a little too familiar.
Because B-Segment cars like the Mazda2 and Ford Fiesta are far too large, companies are all hot-and-bothered over the prospect of creating a micro car like the Smart Fortwo without as many of the compromises (price, efficiency, passengers, masculinity). The reasoning is sound. Americans are increasingly urban dwellers and could use a vehicle with a smaller footprint.

Therefore, we've seen vehicles like the Toyota iQ, Renault Zoe, Mitsubishi Miev, and others tackle the micro car problem. The P-NUT adds nothing to this but Honda-meets-Storm Trooper aesthetics, a stupid name and a layout we think Gordan Murray may find familiar to more than just his eponymous supercar.
This seems incredibly derivative of the same concept Murray is working on with his T.25 City Car, albeit without the fanciful production model. Perhaps this is Honda pulling the football away at the last second as revenge for the McLaren F1, which Murray himself claimed was inspired by Honda's last rear-engined vehicle — the glorious NSX.
Whatever the impetus, we're not interested until they at least decide on a fake propulsion source for it.
Honda 'Personal-Neo Urban Transport' Concept Demonstrates Potential for Ultra-compact City-focused Vehicle

LOS ANGELES, Dec. 2, 2009 – The Honda Personal-Neo Urban Transport (P-NUT) design study model demonstrates a futuristic concept for an ultra-compact and sophisticated city coupe, American Honda Motor Co., Inc., announced today at the 2009 Los Angeles Auto Show.
Conceived around a small "footprint" for maximum convenience in tight urban settings, the packaging concept integrates a center driving position configuration and a rear powertrain layout. The exterior styling leverages crisp angles with dynamic flowing lines that originate from the front of the vehicle and span outward toward the rear. The end result is a sleek and aggressive exterior that also allows for a spacious and open interior with excellent visibility.
"A new generation is discovering the benefits of living in urban centers that provide convenient access to business, entertainment and social opportunities," said Dave Marek, director of advanced design for Honda R&D Americas, Inc. "The Personal-Neo Urban Transport concept explores the packaging and design potential for a vehicle conceived exclusively around the city lifestyle."
The exterior styling is intended to capture a future direction for premium sophistication while balancing the need for maximum interior space and an aerodynamic appearance. The interior layout, in conjunction with the rear powertrain design, contributes prominently to the exterior's overall shape.
- more -
The layout of the interior space, with its center driving position flanked by two rear seats, provides generous legroom for all occupants, roughly the equivalent of a mid-sized sedan in a vehicle that has an exterior footprint similar to a micro car. Interior functionality is increased by rear seating areas that fold up and out of the way to increase storage capacity. The windshield serves as a heads-up display for the navigation system and the back-up camera.
The modular rear engine bay, depicted on the exterior by blue composite material, is designed to accommodate a wide variety of potential propulsion technologies including a conventional small displacement internal combustion engine, a hybrid gasoline-electric powertrain, or a battery-electric powertrain.
"The objective of the exterior and interior designers was to explore the potential for a new type of small-segment-category vehicle that overcomes many of the objections for existing micro-car designs," said Marek. "While the Honda P-NUT concept introduces function-oriented concepts, it also shows that small cars don't have to compromise on style or amenities."
The Advanced Design Studio of Honda R&D Americas, Inc. in Los Angeles developed the P-NUT design study model. Honda R&D Americas began its operations in California in 1975 with local market research activities and has steadily grown its capabilities over the past 33 years to include all aspects of new vehicle research, design and development. Recent Honda-brand efforts include trend-setting products such as the Pilot, Ridgeline, Element, Civic Coupe and Civic Si Coupe.

Specifications
Size class: Ultra-compact
Layout: Rear-engine, rear-wheel-drive
Passengers: 3
Length: 3,400 mm
Width: 1,750 mm
Height: 1,439 mm
Powertrain: Internal-combustion engine, hybrid-electric or battery-electric