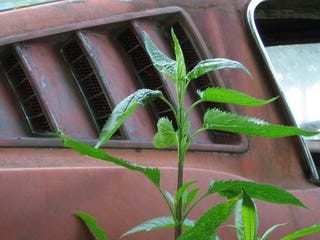 This is Down On The Street Bonus Edition, where we check out interesting street-parked cars located in places other than the Island That Rust Forgot. Goingincirclez took some arty shots of sad-looking discarded cars found on Kentucky roadsides.
We've got a Nash Cosmopolitan, a couple of early Mustangs, and a Ford F-250 sitting at the roadside:
I see you're a junkyard rat like I am. Or at least I would still be if there were decent pic-n-pulls here in central KY. Anyhow, what about cars that are simply abandoned and left to rot? Thought you might enjoy some shots of a 1952 Lincoln I found on the side of the road, and several Mustangs and other cars doing hard time at my in-laws' farm (long sad story there). I had planned to search out old cars and photograph them in a similar matter; life sorta got in the way the last couple years but I just ordered a new camera and hope to get out there again.

(All is not lost at the farm though, a 1966 Mustang vertible and a 1929 Model A Roadster Pickup (!) await resoration, and I'll be spending a week in June clearing out space in a barn to move the Model A and inventory all its parts - I want to see it rebuilt and do it myself if I can).