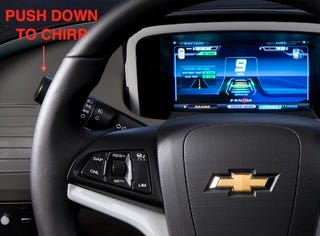 The Chevy Volt runs virtually silent in all-electric mode. To combat the potential electric car "silent killer" threat, GM's built in a "chirp" feature for drivers to announce and warn pedestrians when they drive by.
This chirp, which is gentler than a blaring car horn, is engaged by pulling on the turn signal. Sort of like how you'd pull up to flash your high beams. It also only annoys the crap out of you after 32 pulls of the chirp-lever. That's a much higher threshold than their first pre-production choice — an audio file of Bob Lutz screaming "pedestrians are a crock of shit!"
Here's video of CNBC's Phil LeBeau* annoying the crap out of us by happily chirping away below:
*Note the "passing on gas" was a Today Show producer's choice as a chyron, not ours.