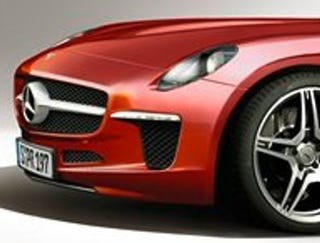 Autocar says to expect a 911-rivaling baby brother to the Mercedes SLS AMG. Possibly hitting the streets in 2012 and called the Mercedes SSK AMG, it would scrap the gullwing door to keep its price down to $125,000.
The rest is pure speculation, for instance guessing that the car would have a 0-60 time of 4.5 seconds and a top speed of 180 MPH (the SLS manages 3.8 seconds and 197 MPH), but it's probably a given that the SSK would use a version of the ubiquitous "6.3" badged 6.2-liter AMG V8.
The 1928 Mercedes SSK (for Super Sport Kurz or Super Sport Short).
The $200,000 (est) SLS is already being viewed as an incredible success for AMG, a brand that until now hadn't produced its own vehicle. It seems logical that the halo car will be followed up by a cut-price alternative for the merely moderately wealthy. [Autocar]