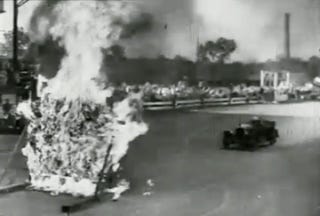 Spectacular newsreel footage from the 1930s reveals an era when destructive testing was a spectator sport instead of laboratory science.
Presented in a Hungarian catalog of prewar newsreels, this is what the copy on the title card says:
HOW MUCH CAN A CAR TAKE?

American carmakers test the endurance of their new products with difficult and peculiar tasks.
Peculiar indeed, when you consider the effects of hitting a wall of fire at speed.