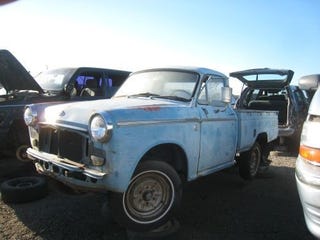 After I got tipped about this truck from three different sources, I decided I'd better head down to the self-service boneyard a few miles from my house.
Would anyone buy a truck of any sort with just 60 horsepower today? Nissan was proud of that power level back in 1965! This truck is remarkably complete and includes some no-doubt-impossible-to-find bits, such as a nice steering wheel and all the dash switches. Let's hope some vintage Datsun lover grabs these parts before the Crusher gobbles them up!


I think this is one of the coolest emblems ever made. In fact, I like it so much that I took it home!