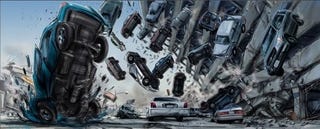 Big-budget disaster porn flick 2012 was the top-grossing movie in theaters this weekend. Personally, we think it's because of the insane amount of automotive hoonage and destruction. Popular Mechanics has an inside look on how the carnage magic was made.
After storyboards are done, VFX artists move to a stage called pre-visualization — a crude version of the action. [PopMech]
Director Roland Emmerich shoots the limo — a Lincoln Town Car L — against a massive blue screen in Vancouver, Canada. [PopMech]
Next step? Rendering! [PopMech]
Better than the takes-a-couple-hours-per-frame renders is this. It's called a doughboy render that takes just a few minutes per frame. [PopMech]
The final result? Well, simply put, it's epic disaster porn. Want to know the rest? Head on over to Popular Mechanics.