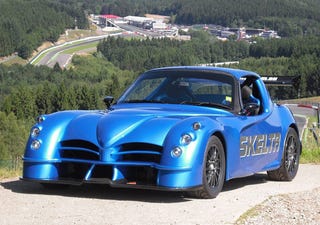 The Skelta is one of a handful of limited production Aussie sports cars, like the Bolwell Nagari, with real performance credentials and completely fugly design. And it's coming to Europe!
Designed for racing, the Skelta includes a lightweight spaceframe with a carbon fiber composite body keeping the car's heft down to a Calista Flockhart-like 1,587 pounds. Bringing the power to the sports car's power-to-weight ratio is either a tuned Honda 2.0-liter fourbanger putting down 340 HP or a 3.0-liter Hartley V8 pumping out 460 HP. Both are mated to a Honda six-speed transmission. The vehicle is available in either an open-top spyder or a two-seater with gullwing targa top.
There's no final word on the price of one of these, but it doesn't matter unless you live in the UK and probably have a lot of disposable income.
IT'S BEEN WINNING RALLIES AND RACES IN AUSTRALIA FOR 6 YEARS. NOW IT'S AVAILABLE IN THE UK – WELCOME TO THE SKELTA
Whether you want to compete in sprints and hillclimbs, clean up in GT racing, participate in track days, or simply motor through the summer sun to your local pub, the Skelta could be just the car for you.
Most road-going competition cars require a myriad of costly upgrades to make them fully competitive. The super-light, ultra-tough Skeltas on the other hand leave the factory with all the power, handling and braking they require to win out of the box.
Supreme lightness
The chrome molybdenum steel spaceframe is reinforced with a centre tunnel and sidepods made of carbonfibre/aluminium sandwich, while the body is crafted entirely from carbonfibre composite. This extensive use of strong but lightweight materials results in a dry weight of a mere 720kg.
Ample power
Power comes from either a supercharged 2.0-litre 4-cylinder Honda unit of 340bhp or the 3.0-litre V8 Hartley engine of 460bhp – both engines drive through a Honda six-speed transmission. The suspension comprises rose-jointed double wishbones front and rear, linked to inboard MCA Proflex spring and damper units – the set-up is fully adjustable for track, camber, caster and toe. Powerful braking emanates from ventilated discs and four-pot callipers front and rear.
Cutting-edge aerodynamics
The heavily finned front air intakes, sizeable rear wing and diffuser are a clue to the aerodynamic package, which exerts 200kg of downforce at 90mph. Coupled to a 50/50 weight distribution this results in phenomenal cornering power – small wonder then that the car is so competitive, whatever its environment. The Skelta is available in two styles:
• Spyder – a wide-bodied, open-topped two-seater
• G-Force – a two-seater with detachable gull-wing targa top
One man's dream
The Skelta was born out of one man's obsession to win the incomparable 2000km Targa Tasmania road rally. A former Australian rally champion, Ray Vandersee began his determined assault on the Targa with a re-engineered Westfield. His ingenious modifications brought it closer to the Porsches, Nissan GTRs etc that were dominating such events, but it was clear that something fresh was needed to ensure him of outright victory. Starting with a clean sheet of paper, and incorporating all the attributes his extensive competition career told him were required, he designed his own creation from scratch – the Skelta.
Thanks to Skelta, Vandersee and his customers have now won countless events throughout Australia and New Zealand and Vandersee himself has come agonisingly close to realising his dream of wining Targa Tasmania outright. With a string of class wins and quickest stage times to his credit, plus the fastest Skelta yet under constant development, 2010 can't come soon enough for him. Skelta Racecars Europe has been formed to give UK and European drivers the chance of similar success and enjoyment.
Skelta facts
• The origin of the name? The Beatles hit Helter Skelter was blasting from the radio the night the project was conceived
• Skeltas are made in Toowoomba, Queensland, next door to the well established Vandersee family business of importing John Deere farm machinery and Hino trucks for distribution throughout Australia