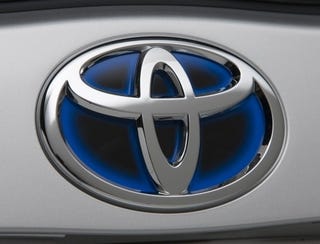 In a press briefing held yesterday at the fancy-pants Detroit Athletic Club, Toyota Group Vice President and General Manager Bob Carter talked plans for ten new products for the 2010 calendar year, the fiery death floor mat recall and competition.
Those new products will include the all-new Toyota Sienna, which was designed in California, engineered in Michigan, and will be built Indiana. Toyota plans to reveal it at the upcoming LA Auto Show. Carter also mentioned a replacement for the Scion TC, as well as the possibility of adding another model to the line, a refreshed Camry, and others. Earnings reports for Toyota will come out Thursday, but expect to see single digit improvements in daily sales rates compared to the last month, single digit declines in the same figure year over year and a 28% improvement quarter to quarter, led by a sales bump from the Cash for Clunkers program. Toyota's expecting growth to continue in the entry-subcompact and subcompact markets and is reaffirming plans for the plug-in Prius at the end of the year, a battery electric by 2012 and a hydrogen fuel cell offering by 2015.
The 800 lb gorilla in the room was of course the litany of bad news for Toyota recently. The floor mat recall problem was the source of much discussion. Carter fielded the questions by referencing the NHTSA studies which are now wrapping up and making note that the conditions which caused the unintended acceleration were largely customer related. Toyota's claiming the problem arises when owners put down incorrect floor mats or multiple mats down which were getting caught up in the accelerator. Carter categorically denied claims like those in ABC News investigation into the situation wherein owners are claiming electrical or mechanical faults led to unintended acceleration. Those claims will have to be proven out independently at NHTSA.
The briefing wrapped up with a bit of levity though. Asked to comment on the strength of the competition, specifically the Hyundai Sonata and Genesis, Carter responded
"I have to be careful on what I say, I don't want you guys writing a story saying 'This Toyota guy thinks the Hyundai Sonata is a great car'"
Take that for what it's worth.