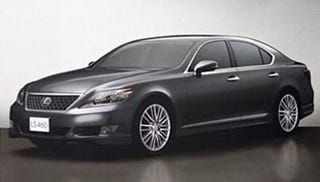 Leaked images of the new 2010 Lexus LS 460 SZ reveal a much-needed performance derivative to the 2010 LS range capable of making record time from Boca to Palm Beach. The rest of the lineup also gets some tweakage.
We don't know if the SZ will reach retirement communities in the US or be confined to elderly Japanese drivers only, but it's black honeycomb grille and unique wheels add visual aggression to the big Lexus, while paddle shifters appear to be the only genuine performance enhancement.
The 2010 Lexus LS 600h receives a Lexus HS 250h-style grille, new wheels, turn signals integrated into the mirrors and revised taillights and headlights. Inside, there now appears to be a night vision system integrated into the instrument cluster.
The 2010 Lexus LS 460 doesn't get that hybrid grille, but does receive the rest of the tweaks. [via Lexus Enthusiast]