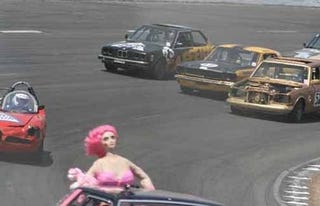 I won't be doing my usual coverage of the Monterey Historic Races next weekend, because I'll be 200 miles to the south, dispensing our unique brand of LeMons justice at the Buttonwillow Histrionics.
Not only will we see a '62 Mini, an Infiniti G20, and more than 100 other sub-$500 junkers on the track at Buttonwillow Raceway Park next weekend, we've just received word that a '67 Austin-Healey Sprite will be racing as well! That's right, the first-ever LeMons Spridget, the mere appearance of which should bring beads of sweat to the brows of all those E30 racers.


What, you don't want to spend a weekend breathing clutch dust and oil smoke in 115° Central Valley air, with a Buck Owens and Merle Haggard soundtrack twanging over the sounds of connecting rods clanking off hot asphalt? Fine, go to Monterey instead, with the rich folks... and check out the Concours d'LeMons, which is put on by the rust-and-primer-loving LeMons henchmen from Billetproof. I can't be there, but you can!