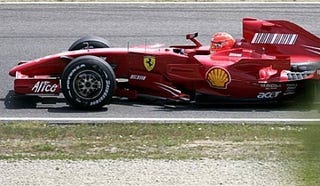 Watch the recently returned winner of 91 races practice at Mugello in Kimi Raikkönen's 2007 championship-winning car.
Why not in Ferrari's current F60, the car he is temporarily taking over from the injured Felipe Massa? Because of the inter-race testing ban introduced for the 2009 season: teams cannot test cars between races at all. Even demonstration runs count as testing, which is why—contrary to tradition—the running season's Formula One cars were completely absent from this year's Goodwood Festival of Speed.
"A great feeling to be back in an F1 car," he said as quoted by the BBC. "After a few laps, I was able to drive constant times and I am quite happy with the time I did. Now, we will have to see how my body and my muscles will react to that day in the next (few) days."
Raikkönen's car is on loan to Schumacher from its private owner. Meanwhile, Ferrari is petitioning the FIA and the Formula One Teams Association to allow for a day's test in the KERS-equipped F60 before Schumacher returns to race on August 23 for the European Grand Prix at the Valencia Street Circuit.
Photo Credit: BBC