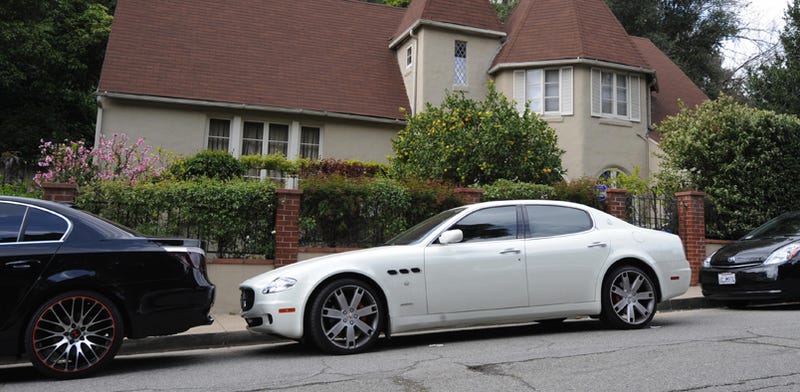 Lindsay Lohan and cars don't mix, yet her vehicles end up on eBay with her ownership advertised as a positive. Now you can own her white-as-pure-cocaine Maserati Quattroporte. Really? Yeah!
It's interesting to see this Maserati for sale since, less than one week ago, the same vehicle was towed away from pal Sam Ronson's house. This was apparently because of a parking violation. Perhaps LiLo's getting rid of the car because she no longer feels able to park it? Either way, her loss is your potential bizarre celebrity memorabilia. Here's the details:
We at Classics on Sunset are delighted to bring to market this car driven by actress Lindsay Lohan. This 2007 Maserati Quattroporte Sport GT, has been in the press and photographed by the paparazzi on several occasions, while associated with Lindsay Lohan. This white Sport GT comes from Modena, Italy fully loaded with Brembo brakes, power seats, CD player, rear sunshades, parking sensors, suede headliner, white stitching, GT wheels and tires, sport exhaust, navigation and moon roof. This celebrity car has been in US Weekly and in every gossip celebrity site possible. Call us with your best offer. Drive and enjoy your investment.
Photo Credit: MARK RALSTON/AFP/Getty Images