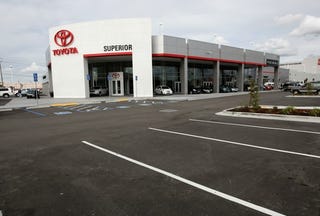 Honda saw sales decline 39.2% from record-setting May 2008 results. Ford outsold Toyota (down 40.2%) for yet another month. GM sales were down a better-than-expected 29.6% and they sold twice as many Camaros in May as Honda sold Insight hybrids. Are American automakers mounting a comeback?
Honda posted May total vehicle sales of 98,344, a decline of 39.2% compared to the automaker's all-time record-setting May 2008 results. That news, combined with Ford outselling Toyota for the second straight month and GM sales down only 29.6% indicate maybe the 'mericans have something goin' on, right?
Well, maybe not. The reality is numbers are still terrible across the board — for everyone. People just aren't buying cars right now. So remember, even though Ford beat out Toyota — they still saw sales drop over 21% last month.
The reason, in general, why U.S. automakers are showing a lower drop this month than their foreign competition is because in May of 2008 gas prices were through the roof and they couldn't beg, borrow or give away their trucks and SUVs.
The reason, in specific, for Ford showing higher sales is because they've got the new product — the 2010 Mustang, Fusion and F-150 — and it always comes down to who has the new, hot products. GM's Camaro's the #2 best-selling vehicle in the sports car segment for May because it had pent-up demand from a built-in enthusiast base looking to buy it. The Insight, on the other hand, has an enthusiast base built on the price of gas. With gas prices lower — in comparison to this time last year — than a tuned Corolla in sunny SoCal, the Insight's not much in the way of a value proposition.
Still, it bodes well enough for Ford to now be claiming U.S. sales will peak over 10 million this year, much better than the 9.4 million number last month. There's a long way to go before we can say we're anywhere near reaching the exit of this carpocalyptic hell — for either foreign or domestic automakers. But signs seem to point to us finally hitting a bottom.
Photo Credit: Justin Sullivan / Getty Images News