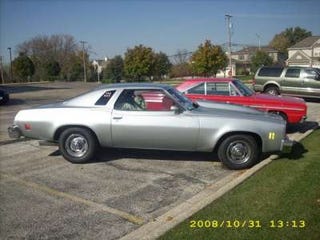 The California enclave of Malibu has endured its share of fires, earthquakes, storm surges and hippies. Today's Nice Price or Crack Pipe Pipe '77 Malibu hasn't had it so rough. Or has it?
Death rides shotgun in this customized Malibu called, appropriately enough, the Grim Reaper. Not only does this bow-tied A-body come with its own theme, it also brings an asking price you might find grim.
BIlled as America's Smart Money Car, the 1977 Chevy Chevelle/Malibu was the last year to wear the XXL draping of early '70s excess. Nineteen seventy seven was also the year when Chevy drove the final nail the coffin of the Chevelle name, as the next year brought a new, down-sized, unibody architecture, as well as the solo application of the Malibu name to the bow-tie brand's mid-sizer.
The devil is in the details, and there's not much to go on from the seller's description. The 112,000 miles on this cortez silver over burgundy coupe may influence your decision more than the claim of multiple trophy wins, as they don't tell what the trophies laud. Despite that six-digit odometer reading, the car appears straight and mostly original, the exceptions being the aforementioned grim reaper theme presented as a mural on the raised center section hood, and matching tramp stamp on the trunk. The dual, stacked rectangular sealed beams have also been given a goth treatment in place of their previous chrome surrounds, as has the vertical-bar grill. The seller claims that the motivating force is an Eldrock Bolton (?) 350 V8, but also notes that it has been 35,000 miles since the rebuild, so it may be more Michael Bolton by now. He's also observing the European date format for his license plate - "77 Rons," which is an awful lot of Rons. Of course, with a paint job like that, this car will inevitably attract more rons.
So, is $21,500 a Nice Price for the Grim Reaper? Or is that way too much for a car that should have died long long ago?
You decide!
eBay, or go here if the ad meets its maker. Thanks to HammSammich for the grim tip.
Help me out with NPOCP. Click here to send a me a tip.