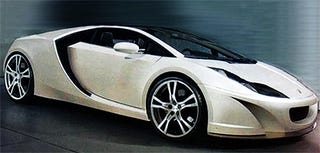 When the next-gen Lotus Esprit arrives in 2012, it'll receive some pretty epic power options according to EVO, including the yet-to-be-released 500 HP, high-revving V10 out of the vaporware upcoming Lexus LF-A.
Lotus has been in bed with Toyota for a number of years now, with their 1.8-liter four, in various forms, powering the Elise and Exige as well as the 3.5-liter V6 powering the new Evora. Apparently there's no reason to stop now and EVO is reporting that the 2012 Lotus Esprit will receive both the 200+ mph capable, 4.8-liter 500-horsepower V10 from the Lexus LF-A as well as the 5.0-liter, 417-horsepower V8 out of the Lexus IS-F. Packing these two engines, the Lotus Esprit will compete head-to-nasty-head with both the Lamborghini LP560-4 and the Audi R8, putting it instantly into a fairly competitive dog fight. There's even rumor that an entry-level model might make an appearance with the 300-horsepower direct-injection Toyota V6, though we're curious if that'll bite into Evora sales.
In addition to a couple of fire-breathing monster engines, it's rumored that Lotus is continuing its work on creating 'Eco' variants of its cars which is headlined by its collaborative efforts with silicon valley-based electric wonder boys, Tesla. Will we see a hybrid or electric Esprit? It's well within the realm of possibility and seems to be a pretty cool idea so long as its biased towards the sporty end of the market and not smug Hollywood playboys as with the Tesla Roadster.
The long-coming next-gen Lotus Esprit seems to be shaping up if you're to believe these rumors, but as these things usually go, we're not holding our breath. [via EVO]