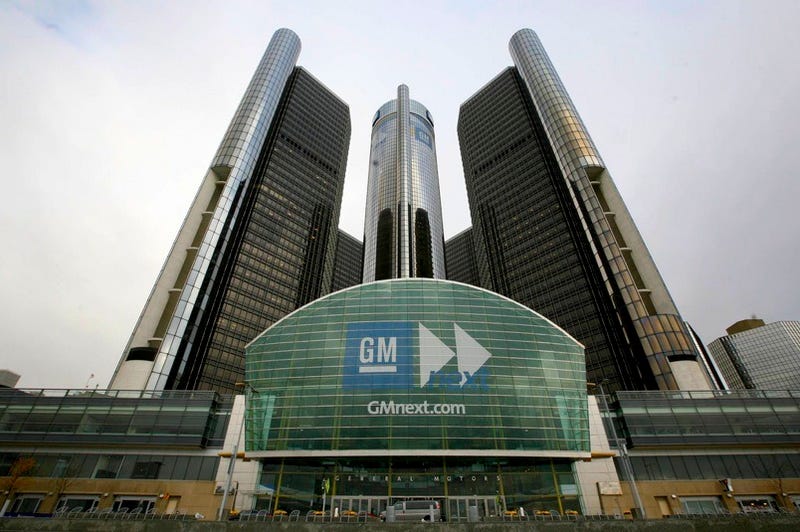 With cutbacks, bailouts, layoffs and rumors of eminent bankruptcy floating in the air, these days GM's Detroit Renaissance Center HQ's a tough place to work. But the view sure is killer. Let's take a look.
This city-within-a-city was actually commissioned by Henry Ford II as the world's largest private development at the time. As you can see from the promotional video to the left, the John Portman-designed complex began construction in 1971 and it was completed, more-or-less, in 1977. The centerpiece was a hotel that, at the time, was the tallest hotel in the world.
The assumption was the $500 million project would rejuvenate the downtown area and bring businesses back to the city. In that regard the Renaissance Center failed (it took a Super Bowl and a Major League All Star Game to actually provide the impetus for downtown rejuvenation) mostly because competition from suburban office complexes, but also because of failings in the original design.


The city-in-a-city building was originally designed and built with huge concrete berms housing the heating and air conditioning systems along the front of the complex, creating both a real, visual barricade from the city — but also a psychological barrier, destroying any ability for the building to connect with the city it was meant to revitalize. Additionally, there was poor access to the river and the basic design of the building is hideous maze of confusion. But that 72-story center tower sure does make for some spectacular views. In 1996 General Motors purchased the building and ordered a $500 million renovation which addressed the previous issues, adding beautiful river access, removing the terrible concrete berms and adding a handsome glass and steel foyer where they showcase their newest models.

Originally, the top two floors of the RenCen — the 71st and 72nd — housed North America's highest rotating restaurant, The Summit, but after a decade of closure, a series of renovations after GM took over ownership of the building seven years ago removed the spinning apparatus and transformed it into Coach Insignia. It's a short elevator ride up to the top but the views are pretty amazing. To the south (yes, the south) you get a clear view of Windsor, Canada, and when you look out upon Detroit, the metropolitan area seems to shrink far smaller than it's 3,913 square miles. Being at the top of the city lets you actually see the original French system of roads radiating from the hub at Woodward and Jefferson, not more than two blocks away. Peering around the giant blue GM badge plastered on the front gives you a sense of scale on just how deeply embedded this company is with the local economy. It looks down upon Detroit from a perch on high, even though lately, it has been made low.
After pondering all of this, we rediscover the mystery of the $8 Jack and Coke.
Top Photo Credit: eschipul / Flickr