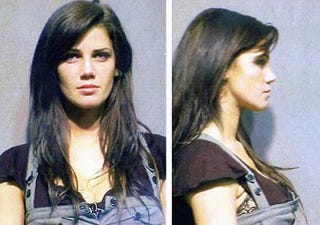 Chicago Police busted busty brunette Playboy centerfold Crystal McCahill for driving her 2005 VW Passat through a red light, while drunk and mumbling incoherently.
McCahill rose to fame on The Girls Next Door reality show and secured the spot as Miss May 2009. Surprisingly, she achieved all of this without securing a law degree, which may explain why she told the officers she had "three shots" at Climax, the Chicago nightclub where she currently works, before driving. Brilliant.
Anyone currently having fantasies about Miss McCahill may be turned off by the fact she drives a Passat, and not something cool like Sarah Jean Underwood's Mini S.
[via Chicago Sun Times]