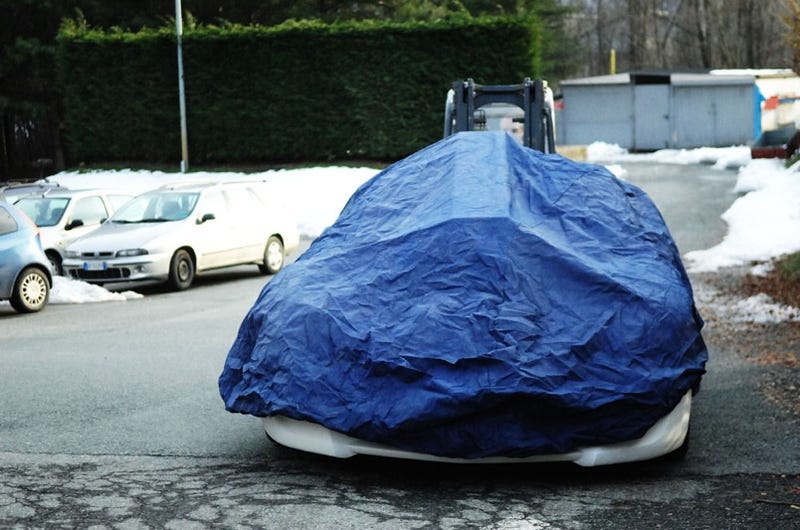 After the documentary teaser last week, here's the first chapter featuring Jason Castriota gearing up for the launch of his new supercar in April at his new workplace, Stile Bertone. Also, the teaser shot above.
Following last week's news of Italian space jacket-clad ex-Pininfarina designer Jason Castriota's new supercar to be unveiled in April at the Shanghai Motor Show, here is the first episode of Inside Project M, a documentary series by Kinetic Fin and Bradley Farrell about his new car. Castriota talks about the heritage of his new employer, Bertone, and how car designers have an arc of creativity in the first chapter of Bradley Farrell's documentary of the build:


The American-born Castriota has done more to advance teenage boy bedroom decorations that any other designer since the early 70s. In a few short years at Pininfarina, he has built up an awesome portfolio. He has had a hand in designing the Ferrari 599 GTB and the Maserati GranTurismo and has created two of the most beautiful one-off cars ever made: the Maserati Birdcage 75th and James Glickenhaus's Ferrari P4/5. As of December 1, 2008, Castriota is the design director of Pininfarina archrival Stile Bertone.
We also have an exclusive still shot of Castriota's new supercar. Here it is, in Maserati racing colors:
Now, you might be thinking along the lines of "Hey Jalopnik, that's a vague car shape covered with a rumpled tarp on a forklift!" Do not despair. We happen to have a similar photograph of Castriota's previous project:
And look how well that turned out:
Follow Project M yourself at the website or on Twitter.