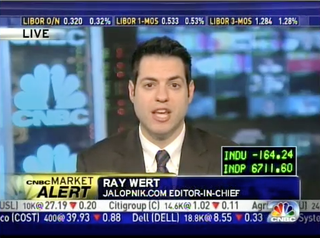 If you watch this segment closely you can see our own Ray Wert blinking out "my name is Ray, not Roy" to CNBC's Larry "KUDLOW!" Kudlow in Morse Code.
Ray claims the reason he shouted out Kudlow's last name in the segment was to subtly remind Larry of his first name. All we know is we'd like to note Wert is the chillest person on CNBC today — and he even made two strong points:
1.) At sub-$2 per share, the market's already priced in the news.
2.) The Obama Administration needs to decide whether having a homegrown auto industry is important and if it is, they're going to need to pay through the nose to have it.
Well, whatever, the video's below:

[via CNBC]