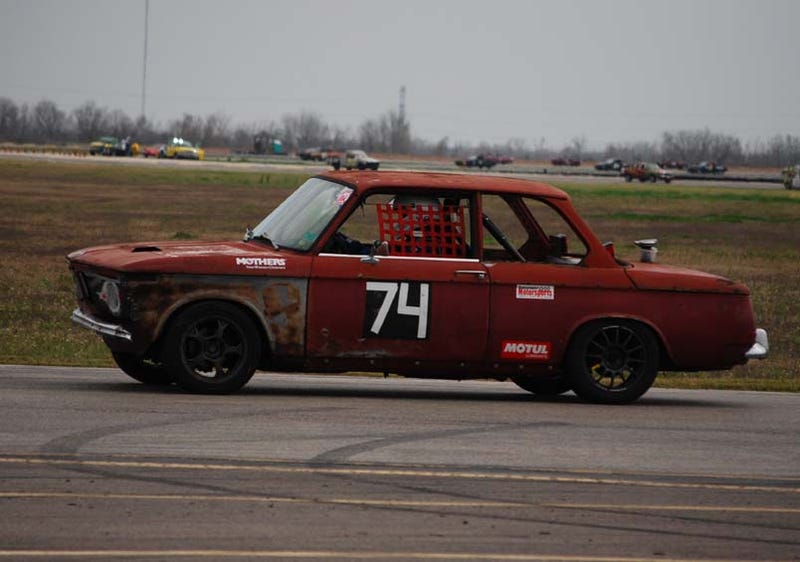 They're back on the track this morning and the standings are getting interesting. The Team SCHWING Toyota FX16 started the day as the leader, with the Never Give Up BMW 1600 just two laps back.

The SCHWING guys are very good; they're driving clean and drama-free, without a single penalty. But just one slipup by the SCHWINGs- a black flag, or a too-slow driver change, for example- and the 40-year-old BMW will blow past that California-built Toyota front-driver.



Meanwhile, the Fox Mustangs are really looking strong this weekend, with three of 'em in the top five. The Formula M For Mullet guys are just a single lap behind the BMW, with 208.



Then we've got a 4-banger Mustang in fourth place, with 204 laps for Team Shake & Bake 4 Cyl Mustang. That's right, folks, a Pinto engine gets the job done just as well as a 5.0!



In fifth place, with 202 laps, is the MusTANK.

So we've got five cars separated by just nine laps. Anything could happen! By the way, after our "bonus laps" experiment at Thunderhill caused so much whining consternation, we've trashed the whole idea. BS penalty laps are included in the Gator-O-Rama totals, but nobody is getting positive laps for having allegedly hopeless cars. Check in later for more LeMons action!