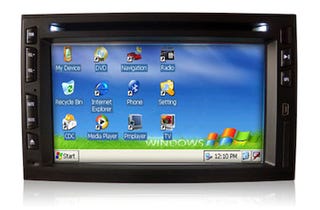 Swiitek's bringing two universal-fit double-DIN PCs and four dashboard-specific head units designed to fit late-model Toyota Camrys, Corollas, Honda Civics and CR-Vs to this week's CES geekfest in Vegas.
Like the Dashboard Devices in-car computer, the Swiitek unit aims to offer a direct replacement for factory head units, they've even designed a range of fitments for popular cars that don't use standard double-DIN heads.
Unlike the Dashboard Devices unit, Swiitek uses a Windows OS (CE or XP), meaning you can work on spreadsheets in addition to accessing the internet, using on-board navigation and watching movies or playing music, all using the touchscreen LED display. There's also WiFi, Bluetooth, USB and SD ports and, most importantly, the ability to look like John Hodgeman even while driving an Audi A6. This is not a good idea wethinks.