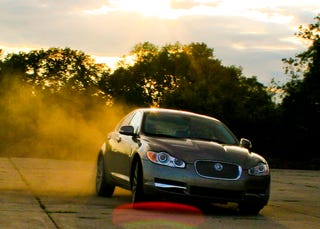 Exterior Design: **/**** It all depends on when you catch the 2009 Jaguar XF. Sometimes it's stunning; sometimes it's stunningly bland. Sometimes it resembles a four-door Aston Martin; sometimes it looks like either a Dodge Intrepid or a Chrysler LHS. One thing's for certain, even though it's occasionally good-looking, it isn't the coupe in a sedan's body that the C-XF concept was. Next time, we'd like to see more aggression and more visual drama.
Interior Design: *** Once again, it depends on when and where you're looking. At night, the cabin is warm and luxurious, accentuated by the starter button that pulses red, the cool blue mood lighting and the attractive dash. Under the light of day, most of the materials not only look cheap, but really, a Jaguar should never have a steering wheel worse than what you'll find in the Ford brand parts bin. The gimmicky rotary gear selector works well, but lacks damping, so it spins freely without changing gears in time. The switchgear is cheap plastic, which is especially a shame when it comes to the gear shift paddles. The seats also aren't the quality you'd expect from a $55,000 luxury car. Then there's the show that happens every time you start the car: the gear knob rises from the dash as the air vents swivel open. Cool the first time, and unless you're James May and/or easily amused, less and less cool every time after.
Acceleration: *** The 4.2-liter, 300 HP V8 feels great to use, but isn't ultimately that fast. 60 comes up in 6.1 seconds, but feels faster due to the stateliness evoked by the sound, weight transfer and smooth, linear feel. For $62,975 you can get 120 HP extra with the aid of a supercharger. Braking: **** No complaints here, the 12.83-inch discs on all four corners haul the XF up without issues and the ABS doesn't intrude unnecessarily early. Solid pedal feel leads to great confidence in the system's ability. Ride: **** Extremely compliant, especially given our tester's 19-inch wheels. A standard fitment on the $55,975 Premium model seen here, those wheels look great, but we can't help but feel the ride would benefit from the less-fashionable 18s. The XF feels big, heavy and smooth, without feeling underdamped. The XF's biggest success. Handling: *** Treat the XF like a luxury car and you'll be surprised by how well it handles. The variable ratio steering is vague on center, but full of feel once you turn into a corner, inspiring confidence. At a medium pace it feels incredibly capable, showing off the XF's use of the same suspension set-up as the XK coupe, but push harder and you'll find the suspension can't handle the added heft, as the mid-sized Jag begins to wallow. For drivers looking for a fast luxury car, this won't be an issue, but those looking for a luxurious sports car will be disappointed. Gearbox: **** Leave the rotary gear selector in Sport mode and you'll be rewarded with a responsive six-speed automatic transmission that holds gears just the right amount of time. Use the paddles and, for an automatic, you'll get fast shifts and the ability to hold the gear of your choosing to the redline. Just don't shift down into first gear manually, it's laggy and with a noticeable lurch that will upset passengers. Regular old Drive mode is less responsive and shifts up way too early, rendering itself purposeless for anything other than increasing fuel economy but seeing as you paid for the car, you really shouldn't puss out on the gas. Audio: **** The optional Bowers & Wilkins 13-speaker surround sound system sounds great, but the touch screen interface is unintuitive. The subwoofer is unnecessary and boomy if turned up past the standard setting. An iPod connection via USB and 6-CD in-dash changer round out an impressive package. Toys: *** We just don't want a Jag to be this gimmicky. What its makers intend to be surprise and delight features — the rotary gear knob, the proximity sensor glove box button, the swiveling air vents, and the glows-like-a-heart-beat starter button — abound, but are poorly executed. The gear selector feels cheap and unrewarding to use, with too much slack. Oil damping would really help it. The proximity sensor glove box release only works when it wants to. The swiveling air vents are annoying. The lighting, however, is some of the best we've seen. Value: *** The $49,975 base price is in line with competitors like the BMW 535i and Audi A6 4.2. If you want a unique mid-size luxury car that's not made in Germany, and not yet made in India, it's a good choice, but probably not as solid of a long term option as a Lexus GS, which comes in about $5,000 cheaper. Overall: *** The XF ends up almost being an also-ran in one of the most hotly contested classes. It's not the fastest, the best looking or the best value mid-size luxury sedan, but if you catch the XF on a good day, when it's looking more Aston than Dodge, it's a uniquely appealing proposition. It's not as luxurious, nor as sporty as we'd want a Jaguar to be, hopefully new owner Tata is prepared to invest in some serious R&D for its replacement. Also See:
Jalopnik Reviews
All of our test drives in one convenient place.