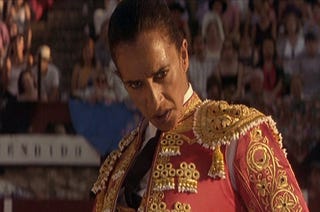 College is a great time to get into foreign-language films. They're usually shown at theaters with ticket prices lower than the first-run megaplexes. Even if you're a Freshman and understand nothing of the world, saying you just saw the latest Goddard film makes you sound cooler (at least in your head). Also, college girls totally dig foreign language films. Anyone in school around the early part of this century was treated to a sudden rise in films by Spanish and Spanish-speaking filmmakers. If you were in school in 2003 and dating a girl that liked Pedro Almodavar (and what girl doesn't?) you probably got to see "Talk to Her," which is a pretty great movie. There are two women in the film representing the poles of femininity: a ballerina and a matador. The woman playing the matador is incredible, though the film doesn't necessarily make us feel any better about bullfighting. In our Worst Car Name QOTD we had JPech go bearish on Lamborghini's bull names.
Pretty much any name that comes after Lamborghini, I know they are all supposed to be fighting bulls, or mean bulls, or fast bulls, but they are all just unpronouceabulls, and unspellabulls.
We like that Lamborghini's get passionate, exciting names... it's when they go alphanumeric that we get confused. Is that an LP560-4 or an LP640? It's definitely not an LM002.
[Photo: Seul-le-Cinema]