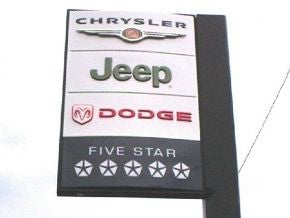 Following the suspension of leasing by Chrysler Financial, Chrysler LLC has announced a new strategy to lower vehicle purchase payments to about the same price point that consumers were accustomed to with leasing. In addition to a model year-end promotion called "Shop 'Til You Drive," Chrysler will be expanding the vehicles eligible for 72-month loans, expanding cash incentives, in some cases to as much as $2,000, and providing additional cash incentives to customers coming off-lease. Automotive News reports that some Ram trucks will be getting discounts of as much as 40% off sticker price in an effort to clear inventory, and that Chrysler dealers will be encouraged to "think in terms of the kinds of clearance sales that department stores have." Full release below the jump.
Jalopnik Snap Judgment: As we expected, Chrysler is going to try to bring the monthly cost of purchasing down to the same level at which leasing used to be. The key word is "monthly." Consumers will still be paying more in the long run by purchasing a vehicle than they may have through a carefully negotiated lease. But no matter how it's viewed, excluding leasing from the mix is going to sell more small, inexpensive vehicles to the detriment of more expensive offerings. Chrysler is just trying to prevent consumers from going elsewhere for them.

Auburn Hills, Mich. - As the market makes a shift from leasing to retail purchasing, Chrysler LLC today announced that in August the Company will repackage its incentives to make purchasing a vehicle more affordable than ever. The new strategy includes 72-month finance deals on an expanded range of compact, mid-size and full-size vehicles. The program creates retail payments similar to 36-month lease payments, and lower than previously offered finance payments. With these new incentive offers, customers can get lower payments with the benefits of ownership.

The Company is able to achieve this by repackaging incentive resources from leasing to retail. Helping achieve these low-finance payments are special retail finance rates and a bonus consumer cash program in which customers can now receive up to $2,000 cash back on select retail purchases when financed through Chrysler Financial.

"As part of our annual August model-year clearance, we are leveraging the move from leasing to retail purchases to offer our customers the best deals of the year and make buying as affordable as renting," Vice Chairman and President Jim Press said. "We have re-packaged our incentive spending typically spent on leasing into retail purchase packages to lower monthly payments on select vehicles from the Dodge Caliber and Dodge Charger to the Chrysler Town & Country and Jeep® Liberty. With the model year ending on 2008 vehicles, the time to buy has never been better."

Returning lease customers will receive a Lease Loyalty incentive up to $750 for use towards the retail purchase of an eligible new Chrysler, Jeep or Dodge vehicle. The disposition fee, up to $425, will be waived by Chrysler Financial.

Special deals for August also include the continuation of 0 percent APR for 72- month deals on the Dodge Ram, Dodge Durango, Chrysler Aspen, Jeep Grand Cherokee and Jeep Commander.

For those customers who still wish to lease a Chrysler, Jeep or Dodge vehicle through an independent financial institution, they can take advantage of Chrysler's Customer Cash Allowance on select vehicles up to $2,000.

The Company also announced its "Shop 'Til You Drive Sales Event" sales promotion campaign consisting of new television ads, radio spots, a new national print campaign and Internet promotions. These initiatives are intended to substantially increase awareness and consideration levels of retail purchases, offering lower monthly payments among the Chrysler, Jeep and Dodge brands.

[Source: Chrysler]