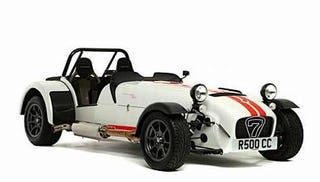 Owning a rare, exotic car comes with its own unique set of challenges. This is especially true for cars like the Caterham Seven, which tends to be raced and modified by a high percentage of its owners. In that spirit, Caterham is now offering insurance to its customers. The best part is the new plan covers track-day certified repair and is friendly to the kind of modifications that Seven owners are likely to make. This follows the Caterham CDX and other offerings from the company that shows its commitment to the unique brand of customers they serve in the UK. More info from the company below.
Caterham Insurance Info

We're all based in the UK
Caterham Insurance advisors are based in Northamptonshire, Claims are in Yorkshire.

In the event of a claim
All repair work is carried out by skilled Caterham mechanics.

Windscreen cover
Windscreens replaced by Caterham or yourself get the £75 excess wavered.

Introductory No Claims Bonus
At Caterham Insurance we understand that your Caterham may be a fun car for sunny days and weekends. If this is the case we can offer up to four years introductory No Claims Bonus.

Agreed value
One of the joys of owning a Caterham is their high re-sale value. If your Caterham is over 10 years old we would be delighted to provide agreed value.

Is you Caterham modified?
A fun part of owning a Caterham is modifying it over a number of years, for the road or track. Caterham Insurance recognises all modifications carried out by Caterham, but can also provide cover if you have completed modifications at a later stage.
[Source: Caterham via AutoFiends, WCF]