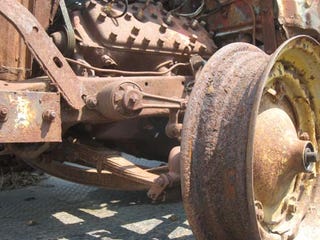 I'm in Denver pretty regularly, and that means I'm often roaming about the area with camera in hand, looking for more photos of street-parked old vehicles to add to the Down On The Street Bonus Edition stash. I was happy to find three vintage Fairlanes on a previous trip, but I just about flew through the windshield in Englewood, so hard did I brake when I spotted what appeared to be an original 1950s race car sitting on a trailer in an industrial 'hood. I didn't know it yet, but I'd arrived at RoadSideWerx.


I went inside the shop to talk to Matt, the very friendly über-gearhead running the joint, and the place was full of rod projects, vintage car magazines and posters, even a breathtakingly original Jag E-Type.



It turns out that the '38 has a storied (though somewhat murky) racing history dating back to the 1950s, and it's currently inspiring feverish dreams of driving the ultimate rat rod in the minds of just about every right-thinking person who catches sight of it. I am forced to admit that I contemplated the logistics of buying it as my personal Hell Project, but I have about 0.004% of the wrenching chops needed to make this thing come back to life. Let's read what Matt has to say about this car:

I am flattered and enthusiastic to get a post up on Jalopnik. Hopefully from visiting RoadSideWerx, it is evident that we build and collect Classic Cars and Hot Rods with pure heart and soul; many people are in it for the money. We are in it for the nostalgia of the sport, and to pay tribute to the men and cars themselves that created a classic American era. To tell you a little bit about the car, I would most respectfully like to correct you in that the car is not a '36 Ford race car, rather it is a 1938 racer. More specially, a 1938 Ford Special Deluxe Business Coupe, which I'm sure you already know is a gem in its rarity to the era. I would also like to tell you that while I may not know the exact history behind the automobile, the factoids and stories I have come across tell me that this is not a piece of automotive history to be overlooked.
Being a survivor of the 1964 Denver flood, much of the car's exterior and interior has been left rusted and worn. Fortunately, for history's purpose, on the driver's side door, one can clearly see that this is car #66 that was raced at Lakeside Amusement park/raceway. From the history that I have received on the car, it was also raced on the Englewood speedway, which was prominently active in the 1950's and 1960's by local gear-heads and builders. The car is also known as a dirt oval, the earliest form of a NASCAR. To my knowledge, it is in its complete and original form from this period in which it was driven.
Logistically speaking this is what we know about the car's build and engine:
* Driven off the track
* 24 stud - flathead engine
* 1938-1939 - 3 Speed - Top-loader transmission
* Ford wide bolt pattern with custom off set for oval racing
* The wheels are Volkswagon style, which offered better performance for racing because it didn't tear the lug nuts out.
* Custom offset wheels that were done by the owner, showing his true early race background. It also demonstrates that the builder put true thought and detail behind this racer.
* The rear bumper is a narrow gauge railroad track piece... not really significant to performance or ability, but just a fun fact about the car to be shared and mentioned.
* The front wishbone was used as a radiator protector
* Steering shaft with sector gear on the front was removable to remove tow bar, the car then, was towed behind a car to the track.
As I mentioned earlier, I unfortunately cannot provide you with the exact history of racer #66. From what I am told, it is from two brothers with the last name of Bluemont. I was also loosely told that they it is likely that these brothers (Art is the name of one of the brothers), were local racers and perhaps owned a gas station or two. My guess would be that their gas stations had affiliation with Amoco, due to a sticker that is on the car. Don't take my word for it, but that would be my best guess. The car itself was found fenced into a backyard that couldn't be seen from the road. It sat in this yard from the late 50's or early 60's until I was lucky enough to stumble upon it. The woman whose yard it resided in is probably close to 90 years old. That being said, I'm not sure her accuracy is up to par, but it is thought that her husband and/or brother-in-law owned and raced the car. This was outstanding to me, if that is true, than this makes me only the second or third owner of a car that is around 70 years old. Sadly, at this point in my e mail, my story and knowledge of the car is limited. I do look forward to learning more about it, and experiencing this true find of an authentic hot rod.
Best,
Matt