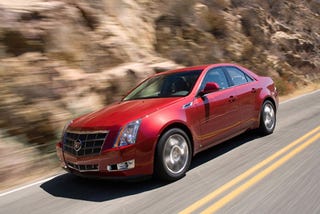 Cadillac is ready to downsize the engines in their luxury offerings — and they have the ability to do it today if that's what customers indicate they want, according to GM Exec VP Thomas G. Stephens. Auto Observer reports he specifically mentioned the possibility of dropping a turbocharged four-cylinder engine, like the turbo Ecotec, into the Cadillac CTS, along with the possibility of trading cylinder count and displacement for turbocharging and direct injection, à la Ford's EcoBoost strategy.
Said Stephens, "We're ready. When (customers) want it - we'll do it." The idea of a four-banger Cadillac CTS Wagon is pretty alluring.
Jalopnik Snap Judgment: There's just one problem with this strategy —how do people signify they want the option of a smaller engine? Do they write letters? Attend focus groups? Isn't this a game of chicken and the egg? We're worried Cadillac's strategy is the same as GM's SUV-pickup truck strategy, which was to wait until they stopped selling them and then drastically shift development. Maybe getting ahead of the market this time would be a nice move.
[Auto Observer via eGMCarTech]