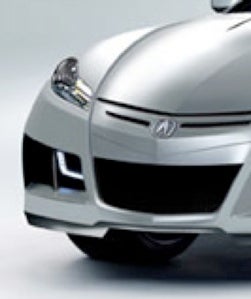 Edmunds' JDM friends at Auto Holiday Magazine have put together some rendered speculation of the new Acura NSX using the spy photos of the 2010 supercar spotted on the Nürburgring in Art Nouveau leopard print. If these sans-camouflage shots are spot on, the new NSX will look — according to Edmunds — "neat but not gorgeous...following the 2007 Detroit Auto Show concept car's lines closer than first thought." Of course it would.


Maybe it looks like that because the renderings appear to come straight from an artist using the Detroit Auto Show concept as a cheat sheet. But, Edmunds' buddies do have some method to the madness. They claim Honda has employed their recent experiences with F1 to create a design generating maximum downforce and straight-line stability. That's why they claim the 2010 Acura NSX was able to drop a lap time of 7 minutes, 37 seconds on its first attempt around the Nürburgring — and will more than likely give the GT-R a run for the money shot on the sub-7:30 time.
How're they going to do that? Well, Edmunds Inside Line also claims the new NSX will weigh in at around 3,256 pounds. That's over 500 pounds lighter than the GT-R. Plus, the rear section of the coupe apparently acts like one big rear wing. Also, there's that 5.5-liter V10 expected to run at over 600 HP and 433 lb-ft of torque. And of course we'd also heard it's expected to get cylinder deactivation — you know, to help with fuel economy and stuff.
Jalopnik Snap Judgment: There's no reason to believe the new NSX won't be faster than the GT-R and the 2009 Corvette ZR1 considering the blistering fast numbers it's already posting. However, we're really truly hoping they do something to those horizontal slits on the front fascia. If not, we're hoping Acura will give us a check box for the leopard-print camouflage.
[via Edmunds Inside Line]