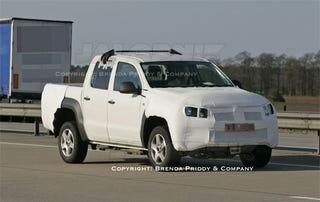 Despite rumors that VW won't sell its upcoming pickup, the "Robust" (that probably won't be its final name) in the US, the company does appear to be conducting hot weather testing here. It looks like the 2010 VW Pickup will be sold exclusively in markets that appreciate simple, well-engineered, utilitarian pickups rather than leather-trimmed, gargantuan lifestyle accessories. Befitting that purpose, a range of common-rail diesels will be offered in addition to a gasoline V6.
Earlier rumors indicated the pickup would be built in both Germany and Argentina. Now it appears production will take place in Argentina only, pointing to an emphasis on the South American market. VW plans to build around 90,000 pickups annually, which may or may not be called Robust.
Jalopnik Snap Judgment: A simple, well-engineered, economical, utilitarian pickup truck? Heresy! Everyone knows a real pickup must be equipped with a lift kit, an 8.0-liter V10 and hood stripes in order to be taken seriously. We're just glad VW will be keeping its terrorist-mobile south of the border, stick those damn terrorists South Americans with a stupid, practical truck, they deserve it.