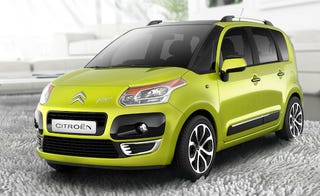 The Citroën C3 Picasso is exactly the kind of Europe-only car we salivate for over here in the new world. Small, stylish, economical, extremely well packaged and quirky. Think of it as a tall Honda Fit with legroom in both rows, diesel engines and the kind of personality it seems only the French are capable of squeezing into such a small package. The C3 Picasso is scheduled to premier at the Paris Motor Show in October, but we can reveal a few details early.


Perhaps the cleverest feature is the three-part windscreen, which helps eliminate the blind spot caused by thick A-pillars. Combined with a tall glasshouse and huge glass roof, it should make for a really light and airy cabin, a good thing in general, but especially for a small people mover trying to make the most of its small interior volume. That interior is reasonably attractive and clever as well, with rear seats that split, fold and slide independently.
Motivation will come in the form of two gasoline engines offering either 95 or 120hp; or two diesel engines with 90 and 110hp. None will be what we'd call fast, but equipped with a manual transmission, should be more than capable of carrying the little Picasso over 100mph, at which speed it'll be perfectly stable and competent because, well, it's European.