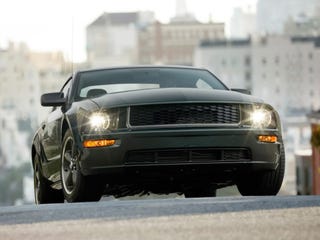 Today we posted some new spy pics of the 2010 Mustang GT Convertible and noted that we weren't big fans of the spoiler and, perhaps, would like a "delete option." This prompted a long discussion about what delete options actually existed, pouring over into Question Of The Day. Though it seems like some of you may be inclined to delete everything but the chassis, engine and steering wheel, EndlessMike identified the proper option.
There's a spoiler delete option. It's just that it runs $3000, also deletes the foglights and front emblem, and only lets you get the car in Highland Green or Black.
Ohhhh... that one. Good call.