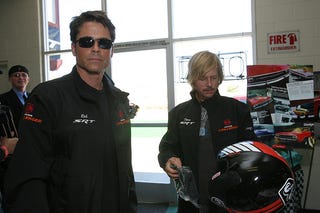 Today Mark "My Bimmer's Like A Shark Fin" Arnold featured some video from Garage 419 of Top Gear America's new host Tanner Foust doing some serious drifting, leading to even more discussion of Top Gear America than we thought possible. Is this a sign of shows to come? Just ask Bento:
"Tonight on Top Gear America, Adam Tests the new Corvette ZR1, Tanner races a Mustang Shelby KR against a man in a rocket powered Segway, Eric Strommer teaches us how to Febreeze our Hybrids after delivering homemade Rumaki to your BFFs Pampered Chef Party....and the Stiggette takes the new Challenger R/T on our track, tehn kicks Strommer in nuts.....but first, David Spade in our resonably priced Aveo 5"
Works for us, though why does David Spade in cars keep happening. Is this a new meme?
[Photo: RLD]