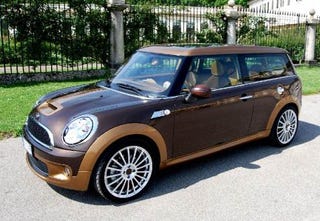 Aznom (nom nom) has introduced their Chateau Mini, a car which acts to combine the twin yuppie delights of the Mini Clubman and French Chateau wine. How do you combine the two? By using ooh-la-la materials on the inside and apparently lots of different shades of brown, oh, and install a stocked "wine cellar" inside the Mini. While we're normally all about tossing back a couple bottles glasses of vino, having fine wine close at hand at all times, in a car which sports enough glass to qualify as a greenhouse just smacks of a bad idea. Full bodied press release with a full nose and long legs below the fold.


MINZA, Italy - Aznom srl is proud to present you our last realization in the Car Pleasure field: the "Chateau Minì" based on the BMW Mini Clubman presented as a world premiérè at the Top Marques Monaco in Montecarlo.

For the realization of this "Chateau Minì" we take the inspiration from the French Chateau, well known in the world for the excellence production of wines and for the elegance of the interior. In order to recreate the atmosphere inside the Chateau Minì we used specified materials such as aged grain leather, gaucho sand leather, Alcantara® and wood that gives a warmy and vintage interior that covers passengers in an elegant trip into emotions and traditions.

The peculiarity of this car is a wine cellar made with the same leather and wood of the interior hided in the double-bottom's car trunk: The Italian leader in wine distribution, Gruppo Meregalli, the Italian leader in wine distribution, has made a selection of some of the best Chateaux: Chateau Lafite, Chateau Haut-Brion, Chateau L'Evangile, Chateau Pavie, Chateau D'Yquem, Chateau Rieussec.
[Source: Aznom asl]