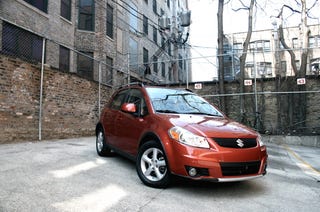 Jalopnik Reviews
All of our test drives in one convenient place.
Why you should buy this car: "Yeah man, that WRX is nice but it looks like it's had some hard miles. That kid put stickers on it, that makes me nervous. I don't know if I want a used car. Yeah, yeah I'd love a new one but that's a little out of the question right now and, you know, I want something fun to drive but... yeah. I hear you. It's just that I don't want to have to replace the clutch in ten thousand miles. Why can't I have something new, fun and affordable that isn't stripped to the bones?"

Why you shouldn't buy this car: "OMG, have you seen the Fit? Honda makes it. FIT. F-I-T. OMG Cuuuuuuute. They had one in this orange color, I loved it. LOVED IT. But it had a stick and I'm not learning to drive a stick. The engine in the Fit? I don't know, I think it has one. Oh that Scion is super fierce. The fiercest. LOLzz"





Suitability Parameters:
Speed Merchants: No
Fashion Victims: No
Treehuggers: No
Mack Daddies: No
Tuner Crowd: Yes
Hairdressers: No
Penny Pinchers: Yes
Euro Snobs: No
Working Stiffs: Yes
Technogeeks: Yes
Poseurs: No
Soccer Moms: No
Nascar Dads: No
Golfing Grandparents: No

Also Consider:
*Honda Fit
*Nissan Versa
*Volkswagen Rabbit
*Used Subaru WRX
*Subaru Impreza 2.5i
*Mazda Mazda3
*Suzuki Burgman

Vitals:
• Manufacturer: Suzuki
• Model year: 2008
• Base Price: $14,999
• Price as Tested: $16,870
• Engine type: 2.0L DOHC I4
• Horsepower: 143 @ 5,800 RPM
• Torque: 136 @ 3,500 RPM
• Transmission: 5-Speed Manual
• Curb Weight: 2,800 lbs
• LxW: 162.8" x 69.1"
• Wheelbase: 98.4"
• Tires: P205/60R16
• 0 - 60 mph: 8.3 Seconds
• 1/4-mile: 16.8 seconds
• EPA Fuel economy city/highway: 21/28
• NHTSA crash test rating: ****/**** (Driver/Passenger)

Also see: