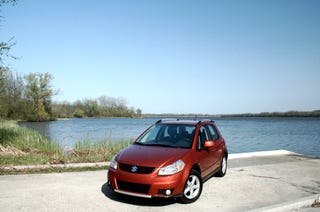 Jalopnik Reviews
All of our test drives in one convenient place.
Exterior Design:***
Design touches such as the split A-pillar, metal-look skid plates and black plastic everywhere give the 2008 Suzuki SX4 a distinctive and tough look that unfortunately distracts from its sporty and capable soul. If we're being generous, the car is a triathlete, pretty good at almost everything. At least it looks unique.

Interior Design:****
Did I mention the back seats tumble all the way forward? That's a nice touch. Though most of the buttons and switches come out of the Suzuki parts bin, everything is within easy reach and everything works like you'd expect it to. Everything but the shifter. The tall greenhouse also means those long of torso and rich with gear can move a lot for a little.


Acceleration:**
If I could change one thing about this car it would be the transmission. Though power plays into the equation, and the 143 horses tied together with Suzuki's version of variable valve timing try hard, the five forward gears are one shy of awesome and a reconsideration of the ratios could push this car into knock-out economy car territory.
Braking:****
The four-wheel disc brakes, front ventilated and rear solid, have an easy feel and would do well on a larger, heavier car. On the lilliputian SX4 they're perfect for creating a little stop-short moment with your lady friend.
Ride:**
For a big chunk of our bike riding adventure one of my passengers was facing down a sharp bike pedal. Though he made it out without a scratch, it got a little close. Suzuki made a decision to err on the side of handling, and though most would agree it was the right choice, there's a touch more bump than some economy buyers are willing to accept.
Handling:****
"Are our cars as exciting as our bikes?" Suzuki asks in its advertisements. I'm not a big bike guy, but I'm willing to guess no way in hell. But it's closer than you think. The best part of this crossover is how it handles when it needs to. The SX4 goes where you point it and the auto AWD system provides just a touch of energy when necessary. Even in slippery conditions the car maintains its composure and is, most importantly, easy to predict.
Gearbox:**
A sixth gear and an aluminum ring is all that's needed to make this an excellent gearbox. The throws are a touch long but the clutch works well even with clunky footwork and the placement is right in my sweet spot but it revs way too high in freeway driving, literally whining for that extra gear.
Audio:*
This is, without a doubt, the worst FM radio in any new car I've ever driven. Chicago is all buildings and, therefore, signals aren't at their best. But I constantly lost signals and rear passengers couldn't hear anything. Thumb controls are a nice touch, but they don't connect to a radio I'd like in my car.
Toys:***
The entire car is a toy, but we have to give credit to Suzuki for providing gimmicks like tumble-forward rear seats, a sharp center information strip with fuel range and external temperature and other smart touches. The AWD system, though lacking in low/high range (c'mon, what did you expect?), has a great "2WD/Auto/Lock" switch next to the handbrake that makes you feel like you're in a far more expensive ride.

Value:****
For $16,870 you get three-mode AWD, a six-disc changer, 100,000-mile limited powertrain warranty, roadside assistance, six airbags, cruise control, power everything and even rear intermittent wipers. Throw in automatic air-conditioning that cleverly mimics climate control and you're hard-pressed to find another bargain for this MSRP. Oh, and it has keyless entry, though it requires carrying around a key fob that might be mistaken for a Sega Game Gear.
Overall: ****
It's hard to know what the Suzuki SX4 aspires to be, but it's not the usual SUV-car dichotomy that most crossovers try to fake. You're not going to mistake this for a Range Rover. The real question you have to ask when judging this car is whether or not it is an exciting bargain car or an exciting car that's a bargain, and though I'd lean towards the former, it's a question that doesn't even come up with other cars in this price range.
Also see: