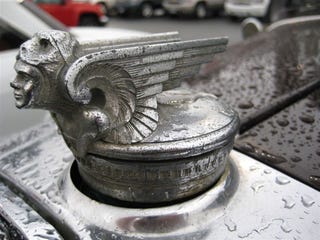 When commenter of the super-stars, Startlton_Heston, offered up some photos from the Lee Johnson Chevrolet 75th Anniversary Car Show we assumed there would be a dozen or so photos to throw into a gallery. Little did we know, although we probably should have assumed, Mr. Heston was insane enough (in the best way) to send us more than one hundred lovingly taken photos detailing 69 years of Chevy metal. Being Seattle, the VCCA meet was a little rainy. A report from the Omega Man as well as some more photos below the jump.
1930 Chevrolet Coupe

1931 Chevrolet Five Passenger Sedan

1936 Chevrolet Standard Sedan

1937 Chevrolet Coupe

1940 Chevrolet Business Coupe

1941 Chevrolet Club Coupe

1941 Chevrolet Master Deluxe

1946 Chevrolet Half Ton Pickup

1952 Chevrolet Bel Air Deluxe

1952 Chevrolet Pickup

1953 Corvette

1954 Chevrolet 210 Two Door

1954 Chevrolet Bel Air

1957 Chevrolet Pickup

1960 Chevy Corvair

1960 Chevy Impala

1962 Chevy Nova II 400

1962 Corvette

1963 Chevy Corvair Monza Convertible

1964 Chevy Impala Two Door

1964 Chevy Impala Four Door

1965 Chevy Nova II Wagon

1968 Chevy Camaro SS

1973 Chevy Camaro Z28

1975 Chevy Caprice Classic Convertible

1989 Chevy Cavalier Z24 ConvertibleReport From Starlton below the jump:
Imagine my excitement, driving to Lee Johnson Chevrolet's 75th Anniversary Car Show, coming around the bend and laying eyes upon a confusing yet rousing and mystical sight. They lined the cars up on the front row by the street?? That's more then I expected! 30's to late 60's Chevys braving the elements (rain in Seattle? NEVER!) and showing off their wax jobs. Not by the usual standard of bling and shine, but here it's a measure of your water beads! There were about 32 cars in all, members of the three North Western chapters of the VCCA (Vintage Chevrolet Club of America).

Most were unhappy about the rain but as a conversation went:
Me: "I'm amazed and excited that the cars are still out! In SoCal, it clouds up and everyone scatters like cockroaches!!"
VCCA member: "Well if we did that, there wouldn't be any cars shows!"

Thanks for the bravery!

Car notes:
Nova 400 Conv. sadly no 400 in it... BOO!! flat 6 with 180HP I believe
75 Caprice had a real 400 with a Malaise 150HP.... HOW was that all the power it had? Sad, but the car looked so cruisable!
53 Vette is number 125 of only 300 made
Thanks for the shots, they'll have to rip that camera out of your cold dead hands!