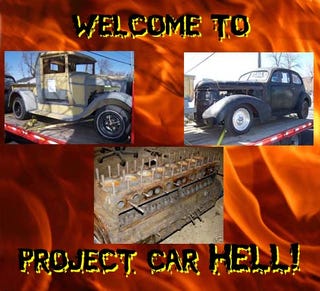 Well, whaddya know- an American Hell Project beat a French one in our most recent Choose Your Eternity poll, with the Malaise Corvette Limo winning by a small- yet significant- margin over the V8-ready Peugeot 404. Unprecedented! We need to honor this tremendous underdog victory by going with an all-American matchup, with a 71-year-old car taking on a 79-year-old truck. Not only that, to honor the amazing Packard Straight Eight we saw in today's Engine of the Day post, each of these projects must be viewed as the potential recipient of a supercharged Packard inline eight engine. So forget those small-block Chevy engines that come with 'em, because the Chevy is just too easy.


Today we're going with a somewhat different format, because today's tipster (and Project Car Hell Tipster T-shirt winner), UDMan found both cars sitting on trailers in upstate New York and photographed them himself:
I took these pictures at a Fabrication Shop called Tom's Hot Rod & Fab Shop, in East Syracuse, NY. (315) 701-4441. They were sitting on a trailer in front of the shop, and they were at a show a couple of weeks ago. I took a look at them, and there is still a lot of work to do on them, but are actually rebuildable (well, I couldn't do it, but a lot of guys on here could).
But before we look at the vehicles, let's consider the engine you'll be using for the project. Wait, did we say engine? Actually, what you get here is a block, head, oil pan, and some other early-50s Packard 327ci flathead inline eight parts, with the crankshaft and rods conspicuously absent. You'll make plenty of connections in the Packard world while you're tracking down the missing engine bits, which will be a big help when it comes time to try to get a supercharger working on it. Hey, this is Hell!

30s GM car with small-block Chevy, sitting on a trailer? Hey, that means it's all set up for a powerful blown flathead (though that GM 10-bolt might be iffy), and maybe there's room under the hood for an engine a good foot longer than the original six! You'll find a way to make it all work, somehow! Here's what UDMan has to say about this one:
Then there's the 1937 Pontiac Sedan, with a 91 Caprice Police Package LT4, with AOD, New IFS Suspension, New Steering Column, New Power Rack, Wire harness from the Caprice, Original Lights, New Glass Included, Power Seats (Front and Rear!), Billet Dash (though I didn't take a look inside), Miscellaneous parts with the car, Shift Kit, and Rosewood Steering Wheel! Minimal Rust, needs lots of finishing. Has Title, and only $12,990 OBO.
Whoa, that price is a little steep, but you'll recoup at least a few hundred by selling that LT4 and associated surplus drivetrain goodies.

We like the Pontiac quite a bit, but the idea of a good old patriotic Ford truck with a howling blown Packard Straight Eight is pretty tough to resist. Here's what UDMan saw:
It's a 1929 Ford PU, with a new chassis, a Mustang II Front End with Rack & Pinion Steering, Front Disc Brakes, Ford Rear End, 350CI Chevrolet, Turbohydramatic, all rust has been expelled, patch panels come with the truck. Carb will be included. It needs finishing.... $10,500 OBO.
Hey, the rust has been "expelled," it's got a Mustang II front end already in place (note what appear to be Capri wheels), and a shiny-new rear suspension. What it probably doesn't have is room for an inline eight-cylinder engine, since this truck came from the factory with a four-cylinder only, so you'll need to get creative about the swap. Hole in the firewall and the rear of the engine right next to your knee? You'll find a way!